Aberlour A'Bunadh Scotch Whisky
SIZE: 750mL
REGION: Scotland / Speyside
PRODUCT TYPE: Scotch Whisky
Aberlour A'Bunadh Scotch Whisky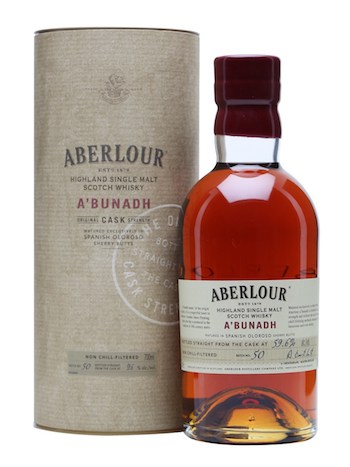 The Aberlour A'bunadh is an unusual Scotch whisky. While it carries no age statement, each bottle carries a unique batch number. It is released in limited-run batches ranging from one to as many as five per year, with the first batch released in 1997. The most recent release was batch No. 52, released in 2015. The whisky is a blend from barrels ranging from five to 25 years in age, and is bottled at cask strength, which historically has averaged between 59% ABV and 61% ABV. The whisky is not chill filtered, nor is any coloring added to it.
 Best scotch whiskey
A'bunadh is exclusively matured in first-fill Oloroso sherry butts, a rarity it shares with only a handful of Scotch whiskies, including The Macallan. This review is of Batch 50, released in 2014. Some whisky enthusiasts have claimed they can find significant differences between the various "batches" of A'bunadh. There are slight differences, but on the whole, in my view, the various batches have been remarkably consistent.
The term A'bunadh is Scotch Gaelic, and means "of the origins." In 1975, during the installation of two new stills, workmen discovered a time capsule that contained a bottle of Aberlour with a newspaper from 1898 wrapped around it. A'bunadh is an attempt to re-create the style of Aberlour whisky from that period.
During the 19th century, Scotch whisky was bottled straight from the cask (what today we call "cask strength") and was not subject to any further dilution. In 1915, shortly after World War I began, in an effort to control drunkenness among industrial workers, the British government reduced the maximum alcohol by volume (ABV) of Scotch whisky on bottling to 37%. This was
Meaning 'the original' in Gaelic, A'bunadh is made in homage to Aberlour's founder, James Fleming. A'bunadh is a whisky hand-made from start to finish with each batch being created to
ensure
a rich and complex flavour of moist raisin, and homemade fruit cake. It is bottled at cask strength resulting in a robust and deeply intense, Sherried whisky.