The Macallan Anecdotes of Ages
PRODUCT TYPE: Scotch Whisky
VENDOR: The Macallan
| | |
| --- | --- |
| Alcohol: | 47,7% |
| Volume: | 700ml |
| Bottled in: | Highlands, Scotland |
Macallan Whisky
Macallan Whisky The Anecdotes of Ages Collection is an extraordinary art and whisky collaboration with globally renowned British pop artist, Sir Peter Blake. The collaboration is The Macallan's third with the iconic artist, and is part of a relationship that has spanned almost four decades. The partnership celebrates our rich legacy and Sir Peter Blake's remarkable contribution to the art world.
This special single malt whisky has been created to commemorate Sir Peter Blake's visit to The Macallan Estate. On the legendary River Spey. An Estate, A Community, and A Distillery tells the story of some of the colourful characters from The Macallan's past and present and features a label digitally designed by Sir Peter himself. Macallan Whisky Lead Whisky Maker, Sarah Burgess, was inspired by Sir Peter Blake's character to create a whisky classic in style with surprising notes of treacle and black pepper.
| | |
| --- | --- |
| Alcohol: | 47,7% |
| Volume: | 700ml |
| Bottled in: | Highlands, Scotland |
PRODUCT TYPE: Scotch Whisky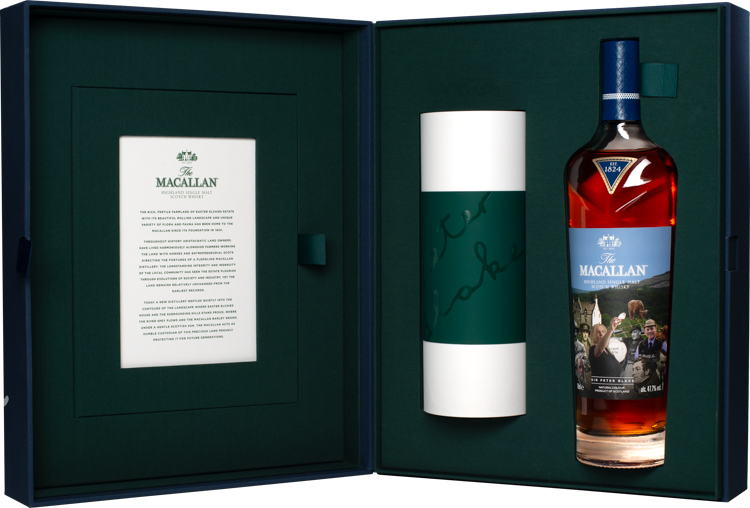 Macallan whisky Anecdotes of Ages Tasty notes
AROMA

Classic antique oak, dried fruit and fig combined with hints of pineapple and mango layered with a decadent chocolate strawberry note.

PALATE

Warm chocolate with light nutmeg and ginger, oak spices and sweet oak opening into pineapple and coconut with an unexpected strawberry and hazelnut burst.

FINISH

Complex with a medium to long finish of chocolate, sweet oak and lightly spiced peach.
The Anecdotes of Ages Collection is an extraordinary art and whiskey collaboration with world-renowned British pop artist Sir Peter Blake.
The collaboration is The Macallan's third with the iconic artist and is part of a relationship. The partnership celebrates our rich legacy and Sir Peter Blake's remarkable contribution to the art world. This special single malt whiskey was created to commemorate Sir Peter Blake's